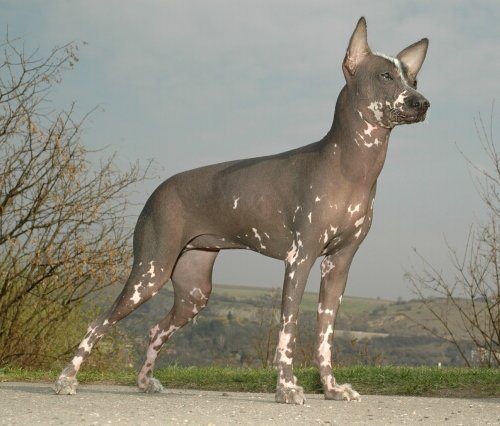 13.6.2006 - 26.3.2017

Sire: Fargo Taschi-Rimpo
Dam: ICh. Anika Sokolovská jednička

Teeth: 6/6+0, nůžkový skus
Height: 39,5 cm
BROOD BITCH

Health tests:
luxace patella: 0/0

Titles: Interchampion, Czech grand champion, Czech Junior champion, Czech champion, Slovakian Junior champion, Club champion, Slovakia Grand Prix Winner 2008, Club winner KCHN CZ, Young Special show winner KCHN CZ, 14 x BOB, BIS Junior KCHN CZ, r.BIS Baby KCHN CZ

Karte or Karticka, that are the names of our girl. Imediately, when she saw the light of the world I knew she will be mine. Beautiful girl with spots and a crown on her head. Since her born she reminds me her mum Niky. Her great apetit inherited from her mother. The smallest puppy is the first in the race to the bowl with food. She is playful and really lovely girl. I lay on her many hopes.
Carte has an excellent character, she is very friendly and great pet. When we have a visit she is happily moving her tail and wants to jump in their arms. She has grown in to a pretty, elegant female, what say also her show results. She likes shows very much and she is a real show dog and I say she is our model.
Fargo Taschi-Rimpo

BOB, Winner of Poland, CWC

Czech Taschi-Rimpo

ICH, CH, WW, EYW

CH Elrond Elimar

ICH, CH, WW Earwen Elimar

Ebony Taschi-Rimpo

ICH, CH

CH Elrond Elimar

ICH, CH, WW Earwen Elimar

Anika Sokolovská jednička

ICH, CZCH, SKCH
CHSK, CH Club, CZJCH
BIS, Dunajský pohár

Dahn-Diamond v. Birkenzweig

ICH, CH, EW

EW Bulldobas Love and Joy

Anemone vom Birkenzweig

CH Chuby Taschi-Rimpo

CH Elrond Elimar

ICH, CH, WW Earwen Elimar

5.5.2007 - Specialty show Lysá
nad Labem - Exc.1, CAJC, Junior
Specialty show winner,
BOB, The Best Junior