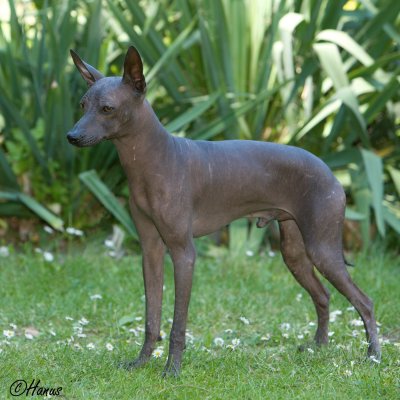 29.8.2008 - 6.12.2015

Sire: Shipak Pakatnamu
Dam: Sullawayta (Leon-Suarez)

Teeth: scissors bite
Height: 39,5 cm
STUD MALE

Health tests:
Luxace patella: 0/0
Eye test for genetical deseases: clinical clear

Breeder: Abel Leon Vilchez / Ana Maria Suarez, PERU

Titles: Junior World Winner 2009, Slovakian champion, Czech Junior Champion, Club Young champion

Thupa is name we choosed with Abal and Annie, when the dog lived still in Peru. He is very temperamental, loves to retrieve and biting of anything :)) He has unconflictful character and gets on with the rest of our pack very well. His biggets friend is Jashu. They make a great fun to each other and their biggest hobby is destroying of teddies:))
Thupa is carrier of interresting and unrelative blood. He is here in order to get male of smaller size.
| | |
| --- | --- |
| WDS Bratislava 8.10.2009 - V1 CAJC, Junior BOB, Junior World Winner | |
| | | |
| --- | --- | --- |
| | Thupík and Viki | |
| | | | | |
| --- | --- | --- | --- | --- |
| Thupík and Viki | | | | Thupa and Annie |